Beta Group attended the SMMT Open Forum 2016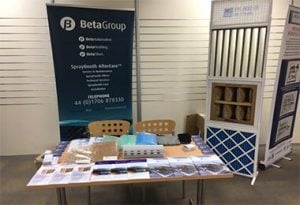 Beta Group's Managing Director, Martin Lewis with David Meehan, General Manager attended the SMMT Open Forum 2016 on 1st November 2016 at Cranmore Park in Solihull.
The Open Forum events provide an opportunity for leaders from within the Automotive industry to discuss and share knowledge on predicted industry movements.  The agenda for the November Open Forum event was based around how the recent EU referendum result would direct the future of the UK automotive supply chain.
Following the topic discussions, Martin and David were given an opportunity to network with other industry professionals providing an opportunity for Beta Group to widen their contact base within the industry (stand image opposite).
Beta Automotive, a division of Beta Group Limited, are one of the UK's leading suppliers of spraybooth maintenance services and air filters.  Keeping up to date with industry news is vital for the continued success of the company, ensuring relevant support and services are readily available to new and existing customers.