Beta Group attends the British Bodyshop Awards 2017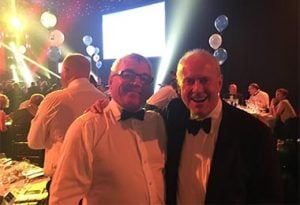 On Tuesday 9th May 2017, Beta Group's Managing Director, Martin Lewis and General Manager, David Meehan attended the 6th British Bodyshop Awards 2017 at Battersea Evolution in London with Gyles Brandreth as the celebrity presenter
This prestigious event, organised by ABP Clubs celebrates excellence within the UK accident repair industry with numerous awards up for grabs.
Described as the industries 'best bash', the British Bodyshop Awards provides opportunity for major insurers, accident and claims management companies, vehicle manufacturers and independent bodyshop networks to come together to celebrate not only the industry as a whole, but those people that work in it.
Martin said: "Beta Group's Automotive Division provides spraybooth maintenance services to body shops across the UK.  This event provides us with a great opportunity to meet others within the industry whilst celebrating success of those high performers."
Dave said: "The Bodyshop Awards was excellent from start to finish.  Gyles was hilarious!
"It was fantastic to meet with so many of our customers and contacts.  We thoroughly enjoyed the evening and congratulate all those who won the awards.
"Thank you to everyone involved to make it such a brilliant industry event.  We look forward to seeing you all next year."