Beta Group becomes new sponsor for Fylde rugby team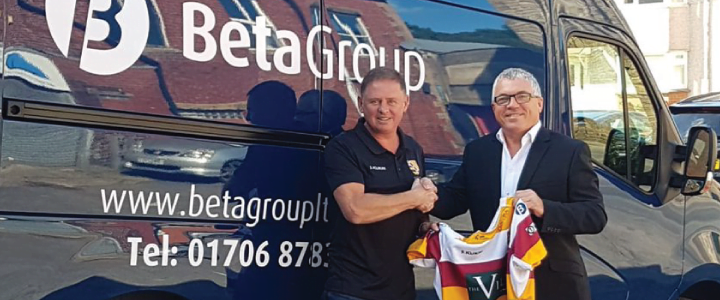 Beta Group is hugely proud to announce our status as one of the sponsors to the Fylde Rugby team. Our founder and managing director, Martin Lewis, lived in Fylde for years, and has always been a huge rugby fan – just like many others of us here at Beta Group! Having grown up regularly watching his favourite team, he also enjoyed playing himself, having served as a 1st team scrumhalf for Rossendale RUFC before he founded Beta Group.
"I still feel a very strong link to Fylde." says Martin. "My family is still based there, and my nephew Adam Lewis is now skipper of the team. I'll freely admit that played a small part in our decision to sponsor them!"
Fylde's General Manager Mike Jefferson said: "The club is delighted to announce our partners for the forthcoming season. We're working really hard to engage outwards which has gone some way to attract old, existing and new relationships."
Here at Beta Group we're very proud to play a part in communities in the North West, and we wish everyone at Fylde's rugby team fantastic success in the upcoming seasons. As for us, we're equally committed to our own goals: helping our customers to benefit through our high-quality air filtration, spraybooth maintenance, and building services. Feel free to give us a call on 01706 878330, and find out what we can do for you!