Beta Group sponsors R-Awards 2016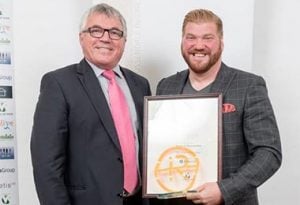 On the 9th November 2016, Beta Group proudly sponsored the 'Made in Rossendale' award at the seventh Rossendale Business Awards at The Riverside, Whitworth.
Organised by Valley at Work, this annual celebration is designed to connect and award success to local businesses.  This year, over 200 local business people attended the evening celebration to await the judge's decision across 17 award categories.
Although Beta Group operates nationally, Managing Director Martin Lewis has always been a keen supporter of local business in a bid to boost employment opportunities.
The 'Made in Rossendale' award is designed to award a Rossendale manufacturing business that has witnessed improved business performance over the last 12 months.
Martin Lewis presented the award to category winner, James Stroud from Rossendale Bespoke Timber (pictured; Martin Lewis, left and James Stroud, right).
More information on the Valley at Work association can be found here:
http://www.valleyatwork.co.uk/